Guest Information
Campground Policies and General Information
Campground speed limit is 5 mph. Habitual speeders will be asked to leave. Motorcycles and all motorized modes of transportation are to be driven to and from site only.
All vehicles entering the campground must check in at office.
Check in time is 12 p.m. to 5 p.m. for rv sites and 3 p.m. to 5 p.m. for cabins. No check ins after 9 p.m. Check out time is 11 a.m. for campsites and 10 a.m. for cabins.
The safety, conduct and whereabouts of children is the responsibility of the parents. Children must not be left unattended in the campground. All children under 16 years of age should wear a helmet when riding bicycles. Maine State Law. Parents please make children aware of 5 mph speed limit.
Visitor Policy: Campers must make arrangements in advance at office. All visitors must register and pay fee. ($10 per day for adults, $5 per day for children/$15 for overnight guests) day guest over the age of 75 are free. All day guests must leave the park by 10 p.m.
No 4 wheelers, golf carts or skateboards. If golf carts are needed for handicap purposes contact the office.
No clotheslines. No fireworks or firearms of any type permitted.
WIFI Password: campguest
All sites are for 1 camper/tent. 2 adults, 2 children. Parking for 1 vehicle.
Quiet time is 10 p.m. to 8 a.m. This doesn't mean you can't enjoy a late night campfire. Just be sure you don't disturb your neighbor with loud voices or tunes.
Campfires must be in fire ring only. Please burn your wood where you buy it. Do not transport firewood due to insects It may contain. Do not put trash or cigarettes in fire ring.
Trash is picked up daily. Please have your trash out by 10 a.m.
No dumping of tanks allowed unless in one of the 3 designated dump stations.
Swimming and use of canoes are at own risk.
When leaving campground after business hours please use the entrance gate. It will open automatically when you approach.
Pet Policy: No aggressive breeds or aggressive breed mixes allowed. Pets must not be left unattended. It is a must that pets are leashed and cleaned up after at all times. Please dispose of pet waste in a designated can throughout the park or your own trash, not the can of a neighbor or empty site. Owners of noisy pets or those not cleaning up after their pets will be asked to leave. No refund.
Please leave site clean. If checking out prior to 8 a.m. please return gate pass the night before or leave in box at door with name and address so that we may return deposit to you. No refund for early departures.
Please respect other campers space. Don't walk through another campers site and coach your children the same.

---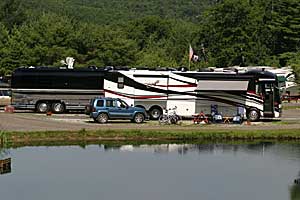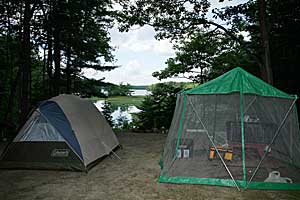 Photos by Robert Mitchell, Southport, ME ©
Pet Policy
It is up to the pet owner to clean up after their pet.
Pets are generally welcome, with the exception of aggressive breeds.
Pets must be on a leash at all times and must not be left unattended on the campground.
Owners of noisy pets will be asked to leave.